Main content starts here, tab to start navigating
Oceans 234
Oceans 234 is located steps away from the sand in beautiful Deerfield Beach, Florida.
Choose one of our several breathtaking, updated modern spaces to enjoy with your guests at your dream oceanfront wedding celebration. Whether it's an intimate dinner or large party, we work with you to create an unforgettable event.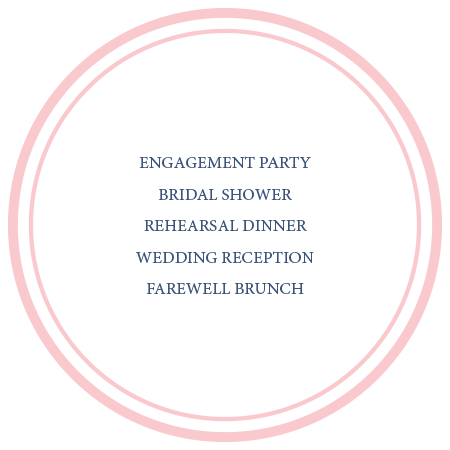 Download our Wedding Events Guide and Menus Here
Say YES to the Venue!
FULL VENUE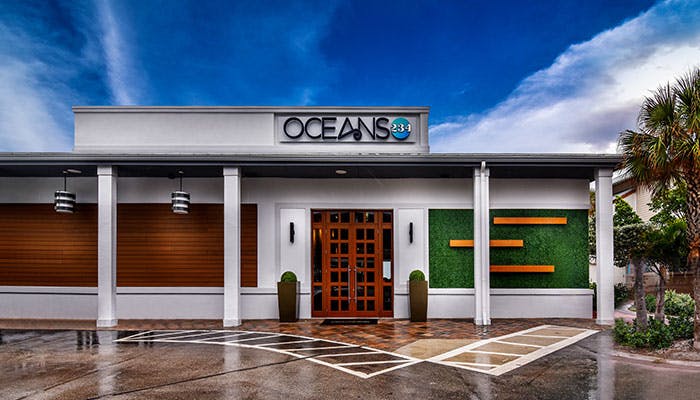 Take advantage of our beautiful oceanfront venue!
We can accommodate cocktail parties up to 250 guests and seated events up to 190. For the ideal wedding reception that includes a space for dancing and DJ, we recommend parties up to 150 guests.
Capacity
Cocktail: 250, Seated: 190
EVENT SPACES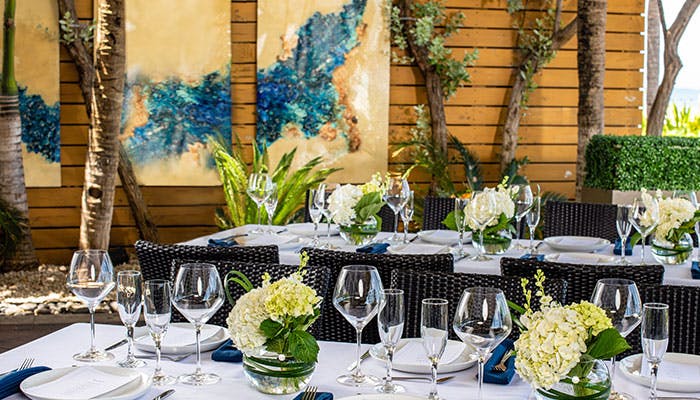 Our smaller semi-private spaces are perfect for more intimate celebrations.
Outside Patio | North
Ideal for engagement party, rehearsal dinner, bridal shower, wedding reception, and farewell brunch.
Cocktail: 20-100, Seated: 20-80
Outside Patio | SOUTH
Ideal for cocktail-style celebrations.
Cocktail: 20-70, Seated: 20-50
Outside Patio | FULL
Ideal for all wedding celebrations.
Cocktail: 100-170, Seated: 100-140
Inside Dining Room
Ideal for all wedding celebrations.
Cocktail: 20-60, Seated: 20-56
THE MENUS
In addition to the breathtaking oceanfront views, Oceans 234 will excite your guests with our exquisitely inspired cuisine. We offer several brunch, lunch and dinner menus, seated and buffet, that incorporate the best of land and sea. Our wide array of passed and stationary appetizers will be sure to please every palate.
All of our menus and alcohol packages are completely customizable.
Our complimentary events planning team will work directly with you to create a dining experience that exceeds your expectations.
Oceans 234 was proud to receive Wine Spectator Award of Excellence in 2018 and 2019.
MEET AMANDA ELLIS
Having an on-site events manager sets Oceans 234 apart from all other restaurant venues. Amanda's strong marketing and business management skills set the tone for how events are planned and run at our restaurant. With more than a decade of event planning experience, Amanda has spent the last six of those years developing all of Oceans 234's signature celebrations.
Amanda's attention to detail and desire to understand and deliver your vision is what inspires many of our clients to choose Oceans 234 for their wedding events. Call Amanda Today: 954-428-2539.
Slide 1 of 21
Slide 2 of 21
Slide 3 of 21
Slide 4 of 21
Slide 5 of 21
Slide 6 of 21
Slide 7 of 21
Slide 8 of 21
Slide 9 of 21
Slide 10 of 21
Slide 11 of 21
Slide 12 of 21
Slide 13 of 21
Slide 14 of 21
Slide 15 of 21
Slide 16 of 21
Slide 17 of 21
Slide 18 of 21
Slide 19 of 21
Slide 20 of 21
Slide 21 of 21
Slide 1 of 17
Slide 2 of 17
Slide 3 of 17
Slide 4 of 17
Slide 5 of 17
Slide 6 of 17
Slide 7 of 17
Slide 8 of 17
Slide 9 of 17
Slide 10 of 17
Slide 11 of 17
Slide 12 of 17
Slide 13 of 17
Slide 14 of 17
Slide 15 of 17
Slide 16 of 17
Slide 17 of 17