Main content starts here, tab to start navigating
Menus
Slide 1 of 3
Slide 2 of 3
Slide 3 of 3
Sweet Endings
Chocolate Trilogy

double stuffed oreos baked between chocolate chip cookie dough and fudge brownie, vanilla ice cream, chocolate ganache 12

Key Lime Pie

graham cracker crust, whipped cream, blueberry compote and lime zest

tree nut

Chef's Choice Bread Pudding

freshly baked warm bread pudding, crème anglaise, vanilla ice cream

Sorbets & Ice Cream

mango, lemon, vanilla, chocolate

Dessert Trio

your choice of 3 dessert selections

Pumpkin Cheesecake
Lavazza
Oceans 234 Proudly Uses Lavazza's Products

Lavazza has improved the living conditions of over 3,000 farmers in eight countries, encouraging economic growth, increasing their standard of living and introducing new and more sustainable and profitable agricultural techniques.
Grilled Cheese

texas toast, cheddar cheese, french fries 5.95

Mac & Cheese

rigatoni, cheese sauce 5.95

Chicken Fingers

lightly fried, french fries 6.95
Rigatoni Pasta

choice of marinara sauce or butter 5.95

Sliders

proprietary fresh ground blend, choice of cheese, french fries 6.95

Fish Sticks

lightly fried cod, french fries 5.95

Veggie Dunkers

carrot, celery, cucumber, ranch dressing 4.95
Elevated Cocktails 18
Up in Smoke

Bulleit Rye whiskey, fresno agave, ghost pepper bitters, CBD THE HIGHER, THE HOTTER, THE BETTER

Cool as a Cuke

Crop Organic Cucumber Vodka, St Germain, cold-pressed lemon juice, simple syrup, cucumber, mint WHEN YOU NEED TO COOL DOWN, REFRESH, REORDER, REPEAT

O-Mai-Tai

Bacardi Anejo Cuatro rum, Bacardi 10-year rum, orgeat, cold-pressed lime juice, splash of cold-pressed pineapple juice RUM AND ALMOND AND PINEAPPLE, OH MY!

Skinny Rosa

Oceans 234 Private Reserve Codigo 1530 Rosa Tequila, hibiscus, cold-pressed lime juice, agave, sea salt "air" TASTES GREAT, LESS FILLING, TASTE GREAT
Signature Cocktails 15
Mango On Fire

Casazul Silver Tequila, mango puree, Cholula hot sauce, cold-pressed lime juice, tajin rim WHEN YOU WANT TO SPICE THINGS UP

Oceans 234 Colada

Skyy Pineapple vodka, coconut puree, cold-pressed pineapple & lime juices DON'T LIKE PINA COLADAS? AND GETTIN' CAUGHT IN THE RAIN?

Just Passion Time

Leblon Cachaca, passion fruit puree, muddled limes FOR EVERY SEASON, TURN & ORDER ANOTHER

Seaside Sangria

red wine, cold-pressed orange juice, dry orange curacao, simple syrup, splash of Sprite SHE SELLS SEASIDE BY THE SEASHORE

Watermelon Heat

Grey Goose Vodka, cold-pressed watermelon, Frezno-agave puree, cold-pressed lime juice MELON IN, MELLOW OUT

Almost French 75

Sipsmith Lemon Gin, muddled cucumber, mint, cold-pressed lemon & grapefruit juices, simple syrup WHO SAYS ALMOST DOESN'T COUNT

Paloma Crush

Don Julio Silver Tequila, cold-pressed grapefruit & lime juices, East Imperial Grapefruit soda IT'S NOT JUST A CRUSH, IT'S LOVE

Just Passion Time

Leblon Cachaca, passion fruit puree, muddled limes FOR EVERY SEASON, TURN & ORDER ANOTHER

Winter Sour

Angel's Envy Bourbon, Averna Amaro, Chinese 5-Spice, cold-pressed lemon juice, egg white BUT BABY IT'S COLD OUTSIDE...SOMEWHERE

Chocolate Martini

Godiva White Chocolate, Godiva Dark Chocolate, house-infused vanilla Ketel One Vodka, splashes of Bailey's & Chambord ONE IS NOT ENOUGH, THREE IS TOO MANY
Oceans 234 is proud to have received the Wine Spectator Award of Excellence in 2018 and 2019.
The Award of Excellence recognizes restaurants whose wine lists feature a well-chosen assortment of quality producers along with a thematic match to the menu in both price and style.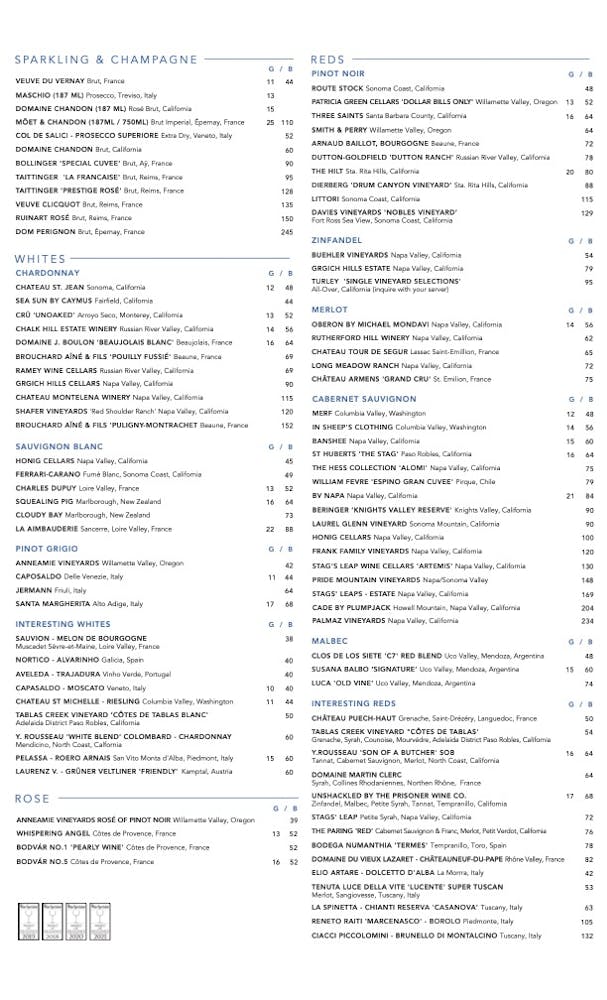 Download PDF
Our Happy Hour Seaside Sip & Savories are served daily,
Monday through Friday from 4 pm to 7 pm
Wines by the Glass $7
Pinto Grigio

Chardonnay

Cabernet

Merlot
Premium Wine $9
Chateau St Jean, Chardonnay

Chateau Minuty, Rosé

Caposaldo, Pinot Grigio

Chateau Souverain, Sauvignon Blanc

Merf, Cabernet Sauvignon

Vueve Du Vernay, Brut
Specialty Cocktails $9
Jim Beam Old Fashioned

Cranberry Mule

Aperol Spritz

Margarita

Cosmo Martini
Spirits - 6 | Rocks - 8 | Martini - 10
Ice Pik Vodka

Sauza Tequila

Bombay Gin

Jim Beam

Dewar's Scotch
BEER
Bud Light

Budweiser

Michelob Ultra

South Beach Blood Orange IPA

ABV 6.7%

Prosperity Intra-Kölsch-Tal

ABV 4.8%
Seaside Savories
Charcuterie Board

chef's selection of artisanal cured meats + cheeses, olives, accompaniments

Old Bay Peel + Eat Shrimp

steamed shrimp, old bay seasoning

Firecracker Shrimp

tangy crisp shrimp, spicy siracha aioli, sesame seeds, citrus slaw

Brussel Sprouts

flash fried, chipotle mayo, pickled red onion, bacon, feta

Nashville Hot Chicken Sandwich

nashville spiced crispy chicken breast, lettuce, mayo, pickle, potato bun

Crudo of the Day

local fish crudo, thinly cut, smoked ponzu, shaved cucumber, fresno chilies, radish, crunchy garlic, scallion

Salmon Nachos

fried wonton, edamame, seaweed salad, sesame seeds, spicy mayo

Fish Dip

pickled jalapeño, pickled peppers, red onion

Fish Taco

crispy fresh catch, flour tortilla, chipotle cream, pickled slaw, tomato jam

Truffle Fries

house fries dusted with parmesan, herbs, white truffle oil